FAQ
What is the popping noise when an adjustment is delivered?
The popping sounds you hear are your joints releasing tiny pockets of gases. A chiropractic adjustment does not affect the bones of either side of the joint, but rather the connective tissue that holds the joint together.
Is chiropractic care safe?
Chiropractic is the largest, non-invasive, drugless and safest forms of health care available. Statistically, patient risk is substantially lower when receiving chiropractic care as opposed to medical care, where the use of prescription drugs and surgery pose a greater risk.
Does chiropractic care hurt?
Chiropractic adjustment is a highly controlled procedure that rarely causes discomfort because minimal force and gentle pressure are used. In fact, most patients feel relief immediately following treatment.
Will I be sore following a chiropractic adjustment?
Any reported soreness after an initial adjustment has been described as similar to that associated with starting a new exercise program. Drinking plenty of water, using an ice pack, and engaging in light stretching after your first visit can help ease any discomfort to promote healing.
How long will my visits take?
This all depends on the length and severity of your condition, however, most first visits may last as much as 30 minutes. Follow-up visits are much less, often as little as 5-10 minutes.
How often will I need to return?
At the end of your first visit, your doctor will determine the best course of treatment for your specific needs. The frequency in which you receive chiropractic care is strictly up to the professional judgment of the Doctor of Chiropractic and will vary from individual to individual depending on your presenting condition and overall goals. Just as regular visits to the dentist are necessary for good dental hygiene, routine visits to a Doctor of Chiropractic for proper spinal function and health maintenance are also important.
Our chiropractors treat patients by delivering a chiropractic adjustment. If, during the course of your exam, the doctor feels that care is contraindicated, you will be referred to the appropriate healthcare provider and/or facility.
Did you know?
The lifetime prevalence of low back pain is reported to be as high as 84%.
What type of education and training do chiropractors have?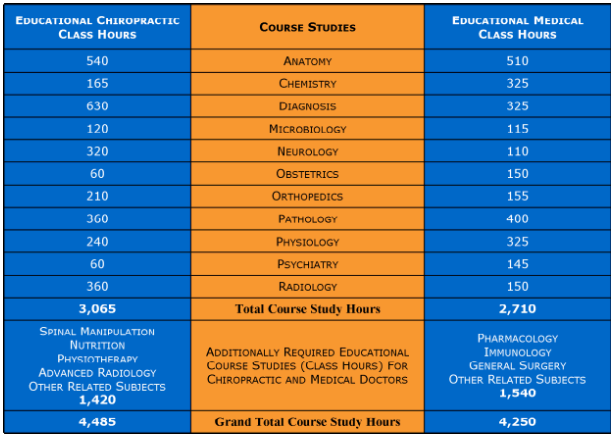 Is chiropractic treatment appropriate for children?
Yes, children can benefit from chiropractic care. As you know children fall down and get into positions that could cause the spine to become misaligned. Those misalignments need to be corrected.
Is it OK to see a chiropractor if I'm pregnant?
Anytime is a good time for a better functioning nerve system. Pregnant mothers find that chiropractic adjustments improve their pregnancy and make delivery easier for themselves and their baby.
What is a chiropractic adjustment?
A chiropractic adjustment is the art of using a specific force in a precise direction, applied to a joint that is misaligned, or not moving properly. The purpose of this safe and natural procedure is to eliminate interference to the nervous system, improving spinal function and overall health.
What is chiropractic care?
Chiropractic is based on a simple but powerful premise. With a normally functioning spine and healthy nerve system, your body is better able to heal itself. That's because your spine is the lifeline of your nervous system. It controls feeling, movement, and all function through your body.
Chiropractors base their care on the detection correction, and prevention of vertebral subluxations (spinal misalignments). We use specific spinal adjustments to correct the spinal misalignments, to improve nerve system functions and reduce nerve interference.
---
Top Reasons Why People Do Not Want To Get Adjusted
Financial Reasons:
"I have to wait until payday."
With your membership you don't have to wait.
"I can't afford chiropractic care."
Your membership makes it AFFORDIBLE.
"I don't have Insurance."
You do not need Insurance with your Membership. You have better access to the Doctor with your Membership.
---
Top Time Reasons
"I never know when I can make time to come in."
No Appointments are needed, WE DO NOT HAVE APPOINTMENTS.
"I don't want to make an appointment, I'd rather just walk in."
That's ok, WE DO NOT HAVE APPOINTMENTS
"It takes too long at the doctor's office."
We will be efficient as possible so we do not waste your time.
---
Reasons To Make The Decision For Me To Join Easy Chiropractic
For My Health
Keep My Job
Keep My Family Healthy
Prevent Injury
Increase Energy
Cheapest Way To Receive Treatment
I Don't Have To Worry About Co Pays
Deductibles Do Not Matter